Weedcash Top 12 Stake Holders – This week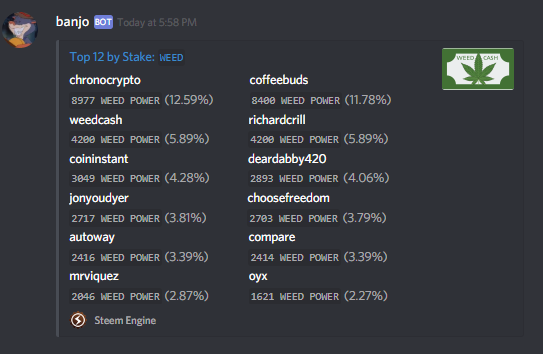 I don't know about you but these WeedCash has me on another level, My goal is to hold 10K by the 10th of the month, do you think I can do it? As you can see I am at 8977 Weed Staked and my lil buddy has 1621!!! @oyx keep killing it!
"Do not dwell in the past, do not dream of the future, concentrate the mind on the present moment." -Buddha
It is Sunday and I have a nice Indica high, just like any mid day but this time it's Straight Sunday and it's a wonderful day outside.
Steem blockchain is insane, many things happens first off weedcash is pure gold for use tokers, quality content and new information as well by some seasoned Cannabis users/patients.
Having a cannabis condenser earning weed and steem is amazing!! Post what we like and grow our community. I have been buying Weedcash since the beginning and I like to go on their and check out everything manual just like Steem back in the day with no bots!
So let's look to the horizon and see and adjust the future of this chain there has been some good news from steemit Inc the last coupled of weeks.
And now let's see how each community goes and to which direction I also want to see how Steem's SMT how it's going to collaborate with Scot.
I would like to see SMT/Scot having its own community reward pool. But then it might take away the element of earning that token + steem.
Let's see what the future brings.
What do you think?
You excited for this weeks Double Your Stake giveaway? Stay tuned and Stay medicated.